Welcome to the Ancient Hoplitikon of Melbourne Inc.
ΑΡΧΑΙΩΝ ΟΠΛΙΤΙΚΟΝ ΜEΛΒΟΥΡΝΗΣ Inc. No: A0052728M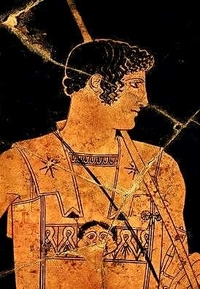 Introduction
The Ancient Hoplitikon of Melbourne is a member of the Australasian Living History Federation (ALHF). It is made up of people, individuals from all walks of life that join together with a devotion both to their craft and to the people around them, be they fellow participants or the public.
Our Focus
The Ancient Hoplitikon of Melbourne are a group of people who are located in Melbourne and the state of Victoria who specialise in Ancient Classical and Hellenistic Greek re-enactment. The group's focus is to study, replicate and perform with military and civilian equipment from the period of 500-200 BC.
We pride ourselves on the fact of having realistic and internationally updated knowledge on Ancient Greek culture of this period. Together with our companions/associates the Sydney Ancients, we have made professional appearances in film and international commercial advertisements using the unique Greek Hoplite Warrior imagery.
A major aim is to make aware to the general public that Greek culture not only lead the ancient world in philosophy, democracy, art and citizenship but also the genius of military prowess, arms technology and application on the ancient battlefield. This ability and determination to repel invaders over the centuries earned great respect and enabled Greek culture to flourish and spread through the Mediterranean world, inspiring the emerging Roman Republic.